Faculty
Faculty
Praveen.Kumar3…
Wed, 07/15/2020 - 13:03
Faculty Guest Lecture Network
Faculty Guest Lecture Network

Need help teaching a specific topic in your course?  Want to connect with other faculty members who might be able to help?  Then search the BOW Guest Lecture Network.  This searchable database will help you identify BOW faculty members with certain areas of expertise who could enhance the learning and share knowledge within you course.
This is a growing community resource: Join the Network today  
Questions?  Please email: BOWGLN@lists.olin.edu
The BOW Faculty Guest Lecture Network is sponsored by a 2018 BOW Innovation Grant.
Praveen.Kumar3…
Wed, 07/15/2020 - 13:18
Faculty Directories
Faculty Directories
Babson Faculty Directory/Profiles
Olin Faculty Directory/Profiles
Wellesley Faculty Directory/Profiles
Praveen.Kumar3…
Wed, 07/15/2020 - 13:18
Faculty Web of Interests (Macademia)
Faculty Web of Interests (Macademia)
Collaboration Tool--Macademia
Posted: Friday, March 04, 2016
Are you trying to collaborate with BOW Faculty who share academic research, pedagogical or teaching interests? Are you seeking collaborators for a research project, a workshop, an event or grant-funded collaborative teaching opportunity?
The Babson/Olin/Wellesley Three College Collaboration is a participating institution in the Macademia project through Macalaster College.  Macademia provides a tool that generates a visual collection of individuals and interests to illustrate connections.
Using the tool is simple:
Fill out a brief profile form, including areas of academic interest.
Once registered, a visualization will appear showing a map of other faculty at BOW colleges who share interests based on those you've selected. The site also provides a list of related academic interests and faculty names.  Click on either of those to recenter the visualization.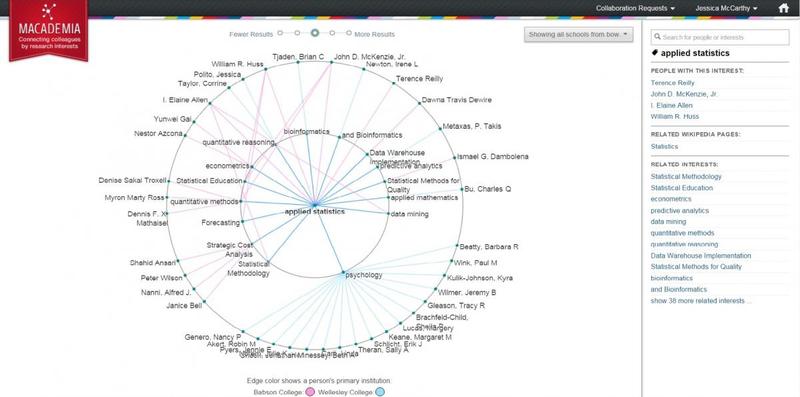 If you are actively seeking collaborators to conduct a research project or organize a workshop, you can click on the link in the top right corner of the website to put out a call for collaboration.
Macademia is developed by current and past students at Macalester College: Nick Brooks, Henry Charlton, Ryan Kerwin, Aaron Laursen, Jeremy Lim, Melissa Marshall, Brandon Maus, Nathaniel Miller, Meg Naminski, Ernesto Nunes, Alex Schneeman, Isaac Sparling, Anthony Tran, under the direction of Prof. Shilad Sen, with design from Marty Moore.
"The project, funded by The Andrew W. Mellon Foundation, sought to nurture faculty collaborations across academic divisions at Macalester," Sen explained. "The Macademia team wanted to create a visual map of faculty research interests, but they weren't sure how to do so."
Praveen.Kumar3…
Wed, 07/15/2020 - 13:19