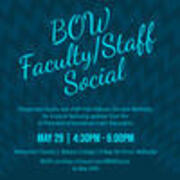 Please join us for an end of the semester BOW Faculty/Staff Social on Wednesday, May 29th at 4:30 pm at the Weissman Foundry. This is a wonderful opportunity for faculty and staff from Babson, Olin, and Wellesley Colleges to meet at a casual venue for drinks, food, and conversation. Additionally, this Spring's Presidential Innovation Grant Recipients will be sharing updates on their AI projects.
Please RSVP at https://tinyurl.com/BOWSocial by Friday, May 24th.
Questions? Contact Jamie Engle, BOW Program Coordinator, at jengle@olin.edu. We look forward to seeing you there!